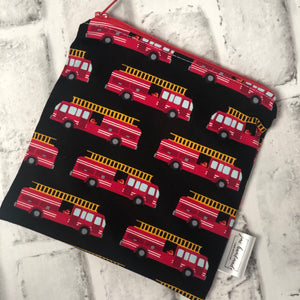 Fire truck snack bag | RTS
Regular price $45.00 Sale
READY TO SHIP!! 


Reusable snack and sandwich bags are the Eco-friendly way to pack your lunch and snacks for on the go eating!
**This new style snack bag is an alternative to our laminated cotton snack bag options. Each style has their own unique advantages, and it really comes down to personal style/preference!** 

All bags are made using 100% cotton which is lead, phthalate, and BPA free on the exterior and a waterproof pul fabric on the inside which is rated food safe! Here is a little info from the manufacturer of the product:
Uniquely food safe. The ONLY PUL to be tested for food safety. It is CPSIA certified, meeting stringent standards by the U.S. Consumer Products Safety Commission on lead and phthalates and flammability. It is also certified for repeated-use food storage per 21 CFR 175.300 and compliant with 21 CFR 177.1680 and 175.320.
Great durability. Our top-selling food safe fabric in the world is very durable & tested to withstand 300+ washings
100% eco-friendly
Super soft, breathable and flexible
Unique process permanently melt-bonds our specially-treated TPU film to the fabric without toxic solvents. The process emits no toxic waste or VOC's that are harmful to the environment.
The fabric is manufactured with no harmful chemicals or finishes in controlled conditions in American textile mills.
Versatile: The number one choice in snack and lunch bags, bakery bags, bibs and play mats, cloth diapers, wet bags, diaper bags and travel bags, shower curtains, outerwear, mattress covers, camping gear, hospital sheets and covers, incontinence products & other waterproof products
Fabric Content: 75% polyester 25% polyurethane

Zipper closure - Our zippers are lead free and CPSIA certified safe for use in childrens products! 


Approximate sizing:
Large - 6.5" square


Custom sizing also available upon request!

Care Instructions: shake out crumbs and/or wipe with a damp cloth. Hand wash and air dry. Machine wash safe. 

Made with love in a pet and smoke free studio.

Each item is handmade and will have minor imperfections but will not affect the overall use of the product.

Print layout will vary from pictures shown above.